Chukka & Chelsea Boot Style Guide For Men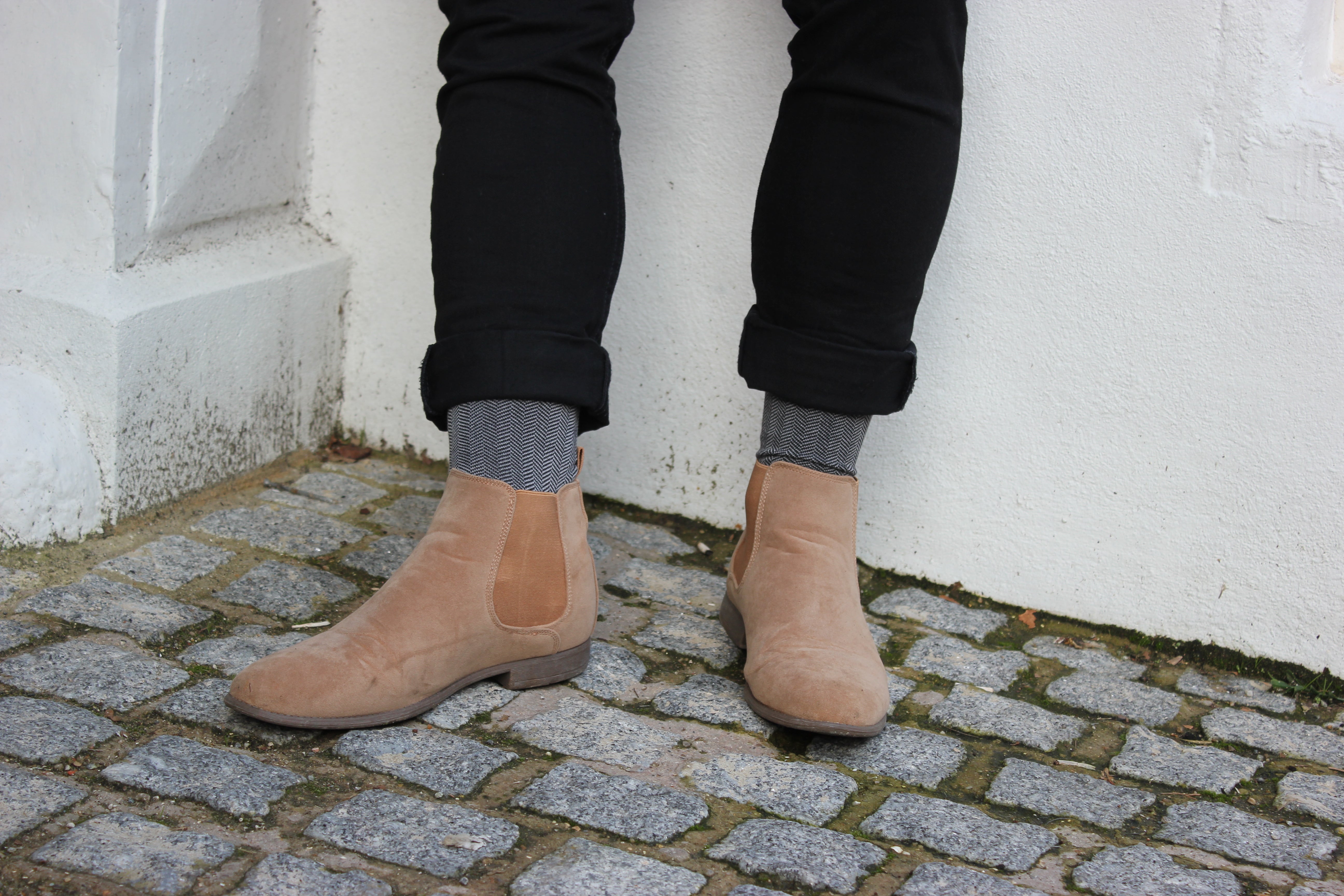 We love socks, and we love boots. And we love socks with boots. So let's talk about some of the best boots to style your socks with; the Chukka Boot and the Chelsea Boot. A good pair of men's boots really are a go to for a year round style ally that will never let you down. We like Chukka boots equally as much as Chelsea boots so let's dive in and let our guide show you more about how to wear them and what they heck they even are.
What are

 c

hukka boots?
Chukka boots have a blurry origin, but it is generally believed that they were named after a "chukka", a period of play in the sport of polo – they've even had stints serving in the British Army, where an iteration picked up the nickname "Desert boots".
They flew to fame in the 1940's and have had multiple variations and are now produced in a magnitude of different fabrics but some of their key design attributes have always remained the same, most tellingly that they are cut just below the ankle.
Are they better than Chelsea boots?
Better? No way, just different, and it's totally up to you which you prefer. Typically Chelsea boots feature elasticated gussets and chukka boots have laces that Chelsea boots don't have. Chelsea boots can be a bit easier to slip on and off as a result if you hate laces. 
We would say as well that Chelsea boots are perhaps a little smarter, so it totally depends on the occasion that you're looking to wear them for.
How to wear chukka boots
Chukka boots are a really easy boot to style. You can wear them in many different ways, including smart and casual occasions. Easy to wear on a date or a trip to the pub on a Sunday they really are as versatile as they are comfortable.
Chukka boots with chinos is a super-simple choice for the now more casual work attire and, as always, choose a pair of Sirluxe Socks to pair with it to keep your look sharp. 
Are Chukka and Chelsea boots comfortable?
With plenty of ankle support and a lacing system that lets you wear them as tightly or loosely as you like, Chukka boots really are a solid choice of comfortable footwear
Their height means they don't rub on your ankles either. 
Chelsea boots are probably a little less comfortable but if you get the right pair they are still a great boot for day-to-day wear.
Can you wear boots in the summer?
Short answer is, yes! If you're living in the the sunny UK, both Chelsea and Chukka boots can definitely make an appearance during the summer.
Suede boots are great for warmer, drier weather – they not only offer a rich look but also help to lighten up your outfit, making them great for wearing with neutrals like tan, green, brown and beige – the colours you'll want to be wearing when you're out and about on warm evenings… we wouldn't advise you style your Chukka boots with a pair of shorts, though…
The Footer
Either of these boots are a great choice. They are easy to wear with a variety of different outfits all year round and are perfectly paired with our bamboo socks.